WiFi Password Finder

Usually, the connection is made automatically to your wireless network every time. What if you need to login to the network with a new device, or you have a guest and need to give him / her your wifi password, but you don't remember it. It sounds frustrating, but actually it is not a big problem. When you have lost your wifi password, download WiFi password revealer to recover all your saved WiFi passwords.
How to find wifi password with WiFi password finder?
When you need to retrieve your wireless password, and you have a different options to find it manually in deep settings of your computer. Or you can reset your router and start from the beginning to entering a long information. If you lost the password to your Wi-Fi network, you would be able to find it with Wi Fi Password Finder tool. The installation procedure will take a short time and when you run this application you will immediately receive all the saved passwords to your wireless network (which you have entered in the past). Information about a network can also be saved to a file. At the program list right-mouse click and then "Save as..." option allows to save the file to Microsoft Excel (*.xls), HTML (*.html), comma-separated file (*.csv), Text file (*.txt) file types in any location. In the context menu, you can simply copy selected password or copy selected cell.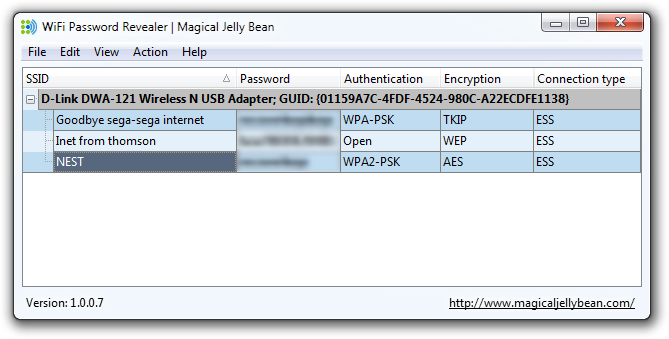 What WiFi Password Finder can find?
Besides recovering the lost passwords to your wireless network, you are able to find a lot of more useful information. For every network (to which you have login and entered the password in the past) the program will show also SSID (Service Set IDentifier), Password, Authentication type, Encryption method and Connection type. The program can decrypt the following security type's: WEP, WPA, WPA2, WPA-PSK, WPA2-PSK.
WiFi Password Finder is fast and easy to use tool. You will be able to find the wifi passwords in seconds. Is a totally free software and can be used on all Windows operating systems (Windows XP, Vista, Windows 7 and Windows 8, 8.1) and available for both 32-bit and 64-bit.

Few notices:
To decrypt stored passwords on the machine you are scanning, you need to have Administrator rights.
For Windows 2003 Server and Windows XP users: When the network has WPA encryption the retrieved password will be as 64 HEX digits. You can still use these characters like real password for internet connection. And this is not kind of bug since Windows XP can't convert WPA back the original password. But this HEX digits still can be used instead of real password.
---