PasswdFinder. Find lost passwords
PasswdFinder is a neat freeware utility that helps you find your lost passwords. Once installed, it will show you passwords saved by web-browsers, email clients, instant messengers, FTP clients and other programs.

Download Magical Jelly Bean PasswdFinder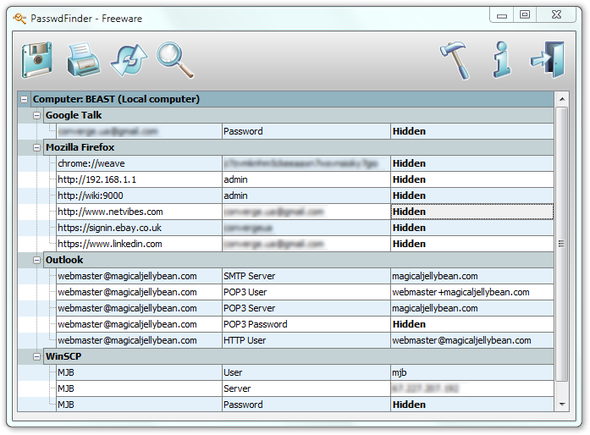 It is mainly used as Facebook password finder or Googe password finder.
Currently, following programs are supported:
Web-browsers
Email clients
Apple Safari
Flock
Google Chrome 1.x - 6.x
Internet Explorer 4.x - 9.x
Opera 6.x - 11.x
Mozilla Browser
Mozilla Firefox
Mozilla SeaMonkey

Becky 2.x
Eudora/Eudora Light
Forte Agent 3.x
Gmail Notifier
Group Mail Free
IncrediMail
iScribe/nScribe 1.x
Mail Commander 8.x
Mail.Ru Agent 4.x - 5.x
Microsoft Outlook 2000, 2002, 2003
Microsoft Outlook 2007, 2010, 2013
Microsoft Outlook Express 6.0
Mozilla Thunderbird 1.x - 3.x
Opera Email Client
PocoMail 3.x - 4.x
POP Peeper 3.x
The Bat! 1.x - 4.x
Vypress Auvis 2.x
Windows Live Mail
Windows Mail
FTP clients
Instant messengers
32bit FTP
BitKinex 3.0.8
BulletProof FTP Client 1.x, 2.x, 2009
Classic FTP PC
CoffeeCup FTP 3.x
Core FTP 2.x
CuteFTP Home/Pro
DirectFTP
Directory Opus
ExpanDrive 1.8
FAR Manager 1.6x, 1.7x, 2.x
FFFTP 1.x
FileZilla 2.x
FlashFXP 1.x-3.x
Fling
FreeFTP
Frigate3 FTP 3.x
FTP Commander Pro/Deluxe
FTP Control 4
FTP Navigator
FTP Uploader
FTPExplorer 7.x
FTPRush 1.x
LeapFTP
NetDrive
SecureFX
SmartFTP 1.x - 4.x
SoftX FTP Client
TurboFTP 5.x - 6.x
UltraFXP 1.x
Web Site Publisher 2.1.0
WebDrive
Windows/Total Commander 4.x - 7.x
WinSCP
WS_FTP 5.x - 10.x, 12 Home/Pro, 2007
&RQ 0.9
AIM Pro
AOL Instant Messenger (older versions)
Digsby
Excite Private Messenger 1.x
Faim 0.1
GAIM 1.x
Gizmo Project
Google Talk
ICQ 99b-2003b, Lite 4-5
IM2 (Messenger 2) 1.5.x
JAJC (Just Another Jabber Client)
Miranda IM 0.2.x-0.9.x
MSN Messenger 1.x-7.x
MySpaceIM 1.0
Odigo 4
Paltalk
Pandion 2.5
Pidgin
PSI
QIP 2005a
QIP.Online
SIM 0.9
Trillian 0.x, 2, 3
Trillian Astra
Windows Live Messenger
Windows Messenger
Yahoo! Messenger 3.x-6.x

Other software
Absolute Poker
Advanced Dialer 2.x
ASP.NET Account
Cake Poker 2.0
CamFrog 3.x
Cisco VPN Client 5
ClubTimer 2.x
Dialer Queen 1.x
Download Master 4.x - 5.x
EType Dialer 1.x
FlashGet (JetCar) 1.x
FlexibleSoft Dialer 2.x-4.x
FreeCall 3.x
Full Tilt Poker
GetRight 5
Internet Download Accelerator 5
MuxaSoft Dialer 3.x - 4.x
PartyPoker
PC Remote Control
PokerStars
Punto Switcher 2.x
Remote Desktop Connection
Screen Saver Win9x
The Bee 1.x
Titan Poker
UPSMon 2.8
VDialer 3
Windows 9x Cached Network passwords
Windows Cached Credentials
(.NET Passport, Domain and Network passwords)
Windows Remote Access Service (RAS)
VPN and Dial-up passwords
WinVNC 3.x