Product key finder for Windows 7-10, Office 2010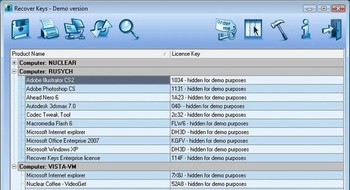 Magical Jelly Bean Keyfinder is really cool utility for finding your serial numbers stored somewhere in Windows Registry, however it is very limited in the number of supported programs and features.
Let me introduce program called Recover Keys. It is advanced product key finder which supports more than 10,000 programs, including newest versions of popular software like Windows 7, 8, 10, Microsoft Office 2010, Adobe Photoshop CS3, CS4, CS5, Nero, lots of games and other software, list of supported programs is almost endless. This tool will not only scan Windows Registry for activation keys, but also your HDD (some keys are there too) and even your network computers. You can scan network computer by entering computer name, IP addresses or IP range. Program can also scan another Windows on your external hard drive or if you have more than one installed on your PC.
Results can saved to HTML, TXT, PDF, RTF, Word, Excel, CSV, XML files, or simply sent to printer. Program got simple and intuitive user interface but with solid amount of options.
Recover Keys can be very useful for system administrators, since you can scan all network computers without installing it on each PC. USB stick and command-line versions are available as well.
Like everything good in this life this program is not FREE. Single license costs $29.95. However, losing even one serial number for Windows or Photoshop may costs you a lot more money and this program can be quite helpful for recovering and saving this sensitive data.
https://recover-keys.com/



---